Sarah's latest film is "Cruel Intentions", in which she co-stars with Ryan Phillipe (who also stared in I Know What You Did Last Summer) and Reese Witherspoon. Set in New York, the film is a modern day retelling of the 1782 novel Les Liaisons Dangerous. The story was also made in to the 1988 oscar-winning Dangerous Liaisons.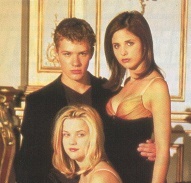 Ryan Phillipe, Sarah Michelle Gellar, and Reese Witherspoon (front)
Sarah plays Katherine Merteuil, a morally bereft, world-weary vixen who manipulates her step-brother (played by Ryan Phillipe) in to seducing Reese Witherspoon's character. Of the role Sarah says, "I hope Cruel Intentions will help make the transition into adulthood. But I hope no one strives to be like Katherine, she's not a good role model."