Written by Kevin Williamson, who also wrote Scream 2, I Know What You Did Last Summer stars Jennifer Love Hewitt, Frankie Perez Jr, Sarah Michelle Gellar, Ryan Phillipe, and Anne Heche. It tells the story of four friends in a fishing town who have just graduated from high school. Sarah plays Helen, the winner of the beauty contest and titled Miss Croaker (!) . Returning from Celebrating on the beach, they are involved in a hitrun accident and cover it up by dumping the man's body into the ocean. But a year later they get a strange letter that says "I know what you did last summer."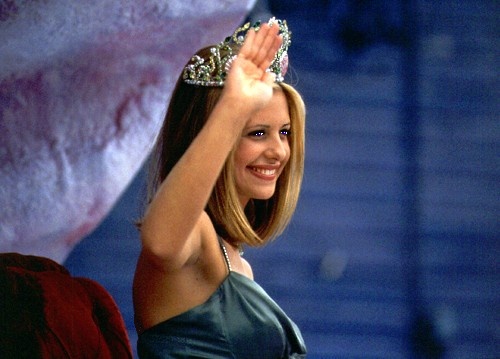 Sarah Michelle Gellar as Helen, Miss Croaker
This was Sarah's second horror film, and she plays a larger role in this one. As she says: "I've learned so much about screaming from this movie. You have to do it over and over again. There's the I'm-being-chased scream, the oh-my-God-I'm-about-to-be-killed scream, the I'm-five-minutes-from-freedom scream. I screamed my head off." The screaming payed off, she won a Blockbuster Entertainment Award in the Best Supporting Actress - Horror category.
Frankie Prize Jr, Ryan Phillipe and Sarah, argue after they've run down a man