Sarah played Kendall Hart on the daytime soap All My Children from 1993 until 1995. Kendall Hart started as Erica Kane's assistant, until it was later discovered that she was Erica's long-lost daughter from 23 years ago. Kendall proceeded to cause problems for her mother Erica and her new husband. She became one of the most hated and devious characters in the show.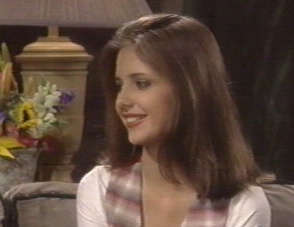 Sarah as Kendall Hart
In 1994, Sarah was nominated for her first Emmy in the Younger Leading Actress category. Although she didn't win, in 1995 she won an Emmy for Outstanding Younger Actress in a Daytime Series. Soon after she left, unhappy that her character had been relegated to the background, and wanting to pursue new things.