Belgrave station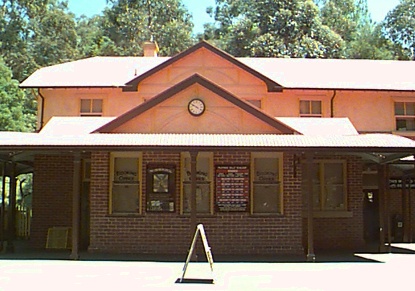 Puffing Billy operates from the Belgrave station, 40 KM from Melbourne. Trips can also be commenced from Menzies Creek, Emerald, Lakeside or Gembrook (see Train Timetables for more information).

To get to Belgrave you can drive. Belgrave station is located on Melway Map 75 reference G9. Two car parks are close by. Alternatively you could take a suburban train from Flinders Street station. Trains depart frequently, but an express train leaves Flinders Street at 9:17 am. The Met station is only a brief walk from the Puffing Billy station.
The train trip is 24 KM long. There are several stops along the way. At the Menzies Creek station is a Steam Musuem housing a collection of early steam locomotives. This musuem is open Sundays and public holidays. The Lakeside station is located at Emerald Lake. Emerald Lake Park is operated independently of the Railway. It has bushwalking tracks, waterslides, children's swimming area, picnic and BBQ facilites and model railway.
Click here for a map of the route.
Introduction | History | Train Timetables