Sarah Michelle Gellar
Sarah was born in New York City, April 14th, 1977. She's 5'3", with green eyes, and naturally dark brown hair. Sarah is an only child and considers herself a workaholic. Her hobbies include Ice Skating, Scuba Diving, Shopping. She has a tattoo of the Chinese Symbol For Integrity.
She was a competitive figure skater for 3 years and was ranked 3rd in a New York Sate regional competition. She has taken 5 years of Tae Kwon Do and is active in physical fitness. Sarah began her acting career at age 4 when she was discovered by an agent while eating in a local restaurant. Three weeks later she was on the set of her first film, An Invasion of Privacy. This was the first in a long stream of TV shows, films, stage plays, and over 100 commercials!
Sarah played Kendall Hart on the daytime soap All My Children from 1993 until 1995. Kendall Hart started as Erica Kane's assistant, until it was later discovered that she was Erica's long-lost daughter from 23 years ago. Kendall proceeded to cause problems for her mother Erica and her new husband. She became one of the most hated characters for her devious ways, although as it was a soap she was a character people like to hate. In 1994, Sarah was nominated for her first Emmy in the Younger Leading Actress category. Although she didn't win, in 1995 she did win an Emmy for Outstanding Younger Actress in a Daytime Series. Soon after this she left the show, unhappy that her character had been relegated to the background, and wanting to pursue new things.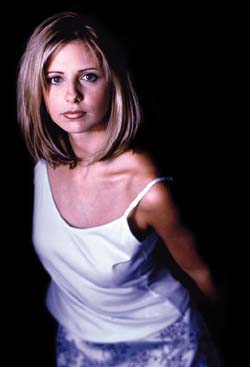 One of these new things was the title role of Buffy Summers on the successful television Vampire Show. Buffy is a college student that has the interesting nightjob of being the slayer of vampires. Being the slayer means she has extraordinary strength, speed and reflexes, but she still has trouble getting dates. The shows huge success lies on the mix of humour (being in part a paradoy of shows such as Beverly Hills 90210) and horror. Sarah is proud of her role as a role model for young girls. "There are girls looking up to me and saying 'I'm going to be strong like Buffy'. I wish I had been able to watch a show like 'Buffy' where girls were not just capable and strong, but independent and individual, too."
Her first big movie role was in I Know What You Did Last Summer with co-stars Jennifer Love Hewitt, Frankie Perez Jr, Ryan Phillipe, and Anne Heche. It tells the story of four friends in a fishing town who accidently kill a man after graduatation and try to cover it up by dumping the man's body into the ocean. But a year later they get a strange letter that says "I know what you did last summer." She says: "I've learned so much about screaming from this movie. You have to do it over and over again. There's the I'm-being-chased scream, the oh-my-God-I'm-about-to-be-killed scream, the I'm-five-minutes-from-freedom scream. I screamed my head off." The screaming payed off, she won a Blockbuster Entertainment Award in the Best Supporting Actress - Horror category.
What's your favourite scary movie? Mine is Scream 2! The 1997 sequel to the hit horror film Scream, has stars Neve Campbell, Courtney Cox and David Arquette reprising their roles, joined by Sarah Michelle Gellar as well as Jada Pinkett, Jerry O'Connell and Heather Graham. Sarah plays a college student named C.C. Alone one night in her dorm house, acting as a sober sister who can pick up any others who may get drunk, she gets a call from a strange man. At first she thinks it is just her boyfriend trying to scare her, but all too soon she realises that the caller is inside the house...
Sarah also co-stared in Simply Irresitable with "Young Indianna Jones" star Sean Patrick Flannery, a romantic comedy about a young chef, a busy business man and a crab that brings them together. Seriously a crab! An undervalued movie.
Sarah then stared in Cruel Intentions in which she co-stars again with Ryan Phillipe, and Reese Witherspoon. Set in New York, the film is a modern day retelling of the 1782 novel Les Liaisons Dangerous. Sarah plays Katherine Merteuil, a morally bereft, world-weary vixen who manipulates her step-brother (played by Ryan Phillipe) in to seducing Reese Witherspoon's character. Of the role Sarah says, "I hope Cruel Intentions will help me make the transition into adulthood. But I hope no one strives to be like Katherine, she's not a good role model."
As Buffy the Vampire Slayer continues in it's fifth series, Sarah has also filmed two more movies. One named Harvard Man and is currently filiming her role as Daphne in a live action version of the classic cartoon Scooby-Doo Where Are You?