Marc Blucas
Marc was born in a town called Giard in Pennsylvania in 1972 (29 in 2001). Always wanting to be a basketball player heplayed at High School and attended University in North Carolina on a full scholarship. When he wasn't drafted in to the NBA, he did play on an English team for a year before returning to the United States to start studying to be a lawyer. He was inspired to be a lawyer by the movie A Few Good Men, but it also inspired him to be a actor which was the path he took.
His first minor role was in the Whoopi Goldberg film Eddie playing a basketballer with few lines but this tall white blond guy was a noticeable presence in the mostly black team. His skill for basketball really got him the part, he also showed off his basketball skills in his last episode of Buffy.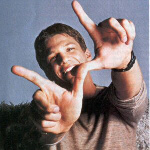 Following a minor role in the film Pleasentville again playing a basketballer, he won the part of Buffy the Vampire Slayer's boyfriend Riley Finn in the show's fourth series. Originally a recurring role he soon became a regular for the last half of series four and first half of series five. His character was an undercover soldier attending University of California Sunnydale by day and hunting demons by night. Eventually he became Buffy's love interest until a tearful break up that saw Riley leave town, for good? Marc recently appeared in the film Summer Catch.
Some Pics
Some web links for more information about Marc:
Marc Blucas The Original Fan Site
Vampirehunters