Julia Louis-Dreyfus
Julia was born in Manhattan in 1961. While studying theatre at University she was the only woman in an improvisation troupe run by Brad Hall. It was with Hall that she moved back to New York and both began appearing on the comedy skit show "Saturday Night Live" in 1982.
Despite some movie roles, and the sitcom "Day by Day", it was her role as Elaine Benes in "Seinfeld" that she rose to worldwide fame. Her character was in the original pilot but added to give a regular female influence in the show. In 1996 Julia won an Emmy for this role.
Elaine was a very opinated and confrontation woman, who slept with many guys and was prone to pushing people about. In Julia's own words:
"Elaine was one of the best female characters ever written for television, and I'm greatful to have been lucky enough to play her. Gender was never a determent to the comedy of Elaine. All of the characters found great strength in their weaknesses, Elaine included. There were no biases of any sort. She was as big a buffon as the rest of them"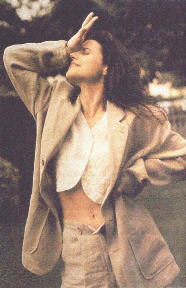 She has performed the voice of Princess Atta, an ant in the animated film "A Bug's Life". Also recently she played the Blue Fairy in a new telemovie version of the Pinocchio story, "Geppetto" co starring with Drew Carey.
Other movie roles include Billy Crystal's wife in "Fathers' Day". She also starred in the movies "Deconstructing Harry", "London Suite", "North" and "Jack the Bear". She had a brief one line role in Woody Allen's movie "Hannah and Her Sisters", a one-line role in a Woody Allen film became a plot point in an episode of Seinfeld.
Julia married Brad Hall in 1987 and they have two sons. Julia was pregnent with both of them during Seinfeld's run, with the pregnancy being hidden on screen by all manner of means (which was sent up on "The Nanny" when Lauren Lane was herself pregnant).
Julia is now at work on a new sitcom "23 Minutes and 12 seconds in the Life of Eleanor Riggs". In it she plays the title role, a lounge singer trying to hit the big time. The show takes place in 'real time' and is filmed with a single camera.
For more info on Julia check out:
George's Julia Louis-Dreyfus Pages