Jennifer Aniston
Born in California on February 11, 1969, Jennifer was the daughter of soap star John Aniston (Victor in Days of Our Lives). She spent some time in Greece growing up and in New York. She studied acting and appeared in some off-broadway productions. Her first roles on television came in "Molly", "The Edge", an unsuccesful tv version of "Ferris Beuller", and "Herman's Head".
Her big break came in the role of Rachel Green on the hugely succesful, and rightfuly so, sitcom Friends. Rachel is a spoilt girl from the suburbs who has always lived off her father's money and never had to do anything. When she runs out on her wedding day she meets up with her old high school friend Monica and ends up moving in with her. It is from her viewpoint that we are introduced to the famous group of friends. Rachel has an on-again, off-again relationship with Ross that has also been a pivotal story point through the show's history.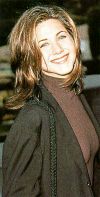 It was also as Rachel that she became known for her hair. Her hairstyle was much admired by women who flocked to the hairdressers for the same style that became known as "The Rachel". Eventually Jennifer tried to get away from that look, first by growing her hair very long, then by drastically cutting it short. The women's mags tell us how unhappy she is with this new look and that she can't wait till it grows back. (I think it looks great).
With Friends a hit, Jennifer made a few movies but hasn't had any huge successes yet. In "She's the One" she had a small role. In "Picture Perfect" she played a character very much like Rachel from Friends, who lusts over a coworker, and creates a fake boyfriend. In "Object of My Affection" she played a pregnant social worker who falls in love with her gay roommate. In her latest film she costars with Mark Walhberg in "Rockstar".

In 2000, she became the envy of women all over the world by marrying the man voted "Sexiest in the world", Brad Pitt. A huge ceremony was held shrouded in ultra tight security. Only one wedding picture was actually released. Their wedding bands have each others names on them.
For more information about Jennifer Aniston try:
Sandra's Jennifer Aniston Tribute
The Jennifer Aniston Picture Site